South Africa Fast Track
Airport Meet and Assist
VIP Assistance at JNB CPT DUR PLZ GRJ airports ...
CHECK PRICE
BOOK NOW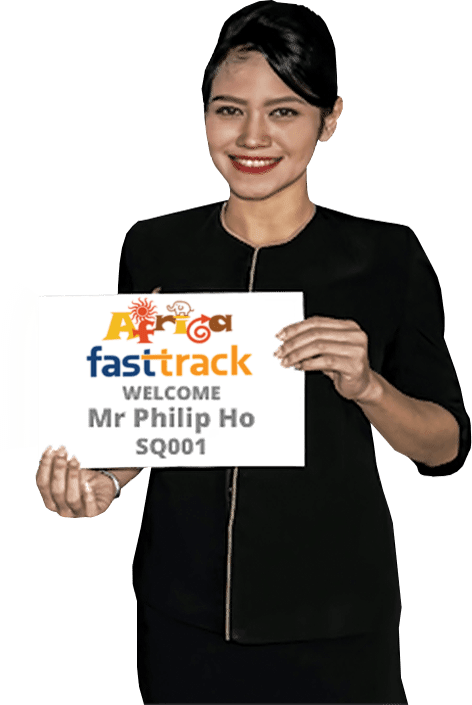 Meet and Assist services at airports in South Africa. For any traveler, on any airline, in any cabin class.
South Africa's  airports are some of the largest and busiest in continental Africa.  Booking a Meet and Assist Service will make passing through it fast and easy. South Africa Fast Track's local greeters will help bypass the lines and ensure a quick arrival, a smooth departure, or a successful connection.
Africa Fast Track's service in South Africa adds a first class feel, usually reserved for VIPs or celebrities. The service may include regular or special immigration handling, an electric buggy kart, help with VOA and baggage,  Before you book, our reservation team & system will help you book the exact service that you need.
Airport Meet and Greet service in Johannesburg, Cape Town, Port Elizabeth, Durban & George
On arrival South Africa  Fast Track's English speaking greeters will meet you near the air bridge. They will assist you through any passport or visa control, and escort you to the baggage and customs area. They will help find your driver, or if you booked a connection, check in to your next flight.
On departure, they will contact your driver, will assist you through check-in and immigration, and will take you to your airline lounge or the boarding gate.
For connections, the greeter will meet you near the air bridge and will guide and escort you through the arrival, departure and transfer processes needed for your connection, right through to your airline lounge or the gate.
For more than 10 years our Airport Assistance and Booking Team has assisted thousands of travellers pass smoothly through busy airports. Before you book, Fast Track's tools and expert staff will help you understand and choose the exact service you need at the lowest possible cost.  Fast Track services are available to any traveler, on any airline, and in any cabin class, and in all major airports around Asia, the Middle East & Africa.
In South Africa we serve the airports of JNB, CPT, DUR, PLZ and GRJ. We offer travelers VIP meet & greet concierge assistance in each of those airports' international and domestic terminals.
South Africa has three main airports: Johannesburg (IATA Code JNB), Cape Town International Airport (IATA Code CPT) and Durban International Airport (IATA Code DUR).
Johannesburg's O.R. Tambo International Airport is the main hub for South African Airways. It is South Africa's busiest airport, being close to Kruger National Park. It is 22km (14 miles) east of Jo'burg. Our VIP Fast Track Car and Driver Services provide a safe and speedy transfer, in conjunction with Fast Track Immigration. Johannesburg Airport was upgraded for the 2010 FIFA World Cup. It has 6 spacious terminals and processes around 18 million passengers a year. Our Meet and Assist Services are the best way to avoid the long walks between terminals. Services include shops, restaurants, a medical facility and Wi-Fi throughout the airport.
Cape Town International Airport is 22km (14 miles) from this waterfront city and transfers can easily be arranged as part of our Fast Track Meet and Assist Services. Winner of the Skytrax Award for Best Airport in Africa 2009, this sleek and spacious airport has five terminals. They must be reached on foot or using our VIP Fast Track Airport Services. Terminal 5 includes an impressive Conference Centre. The airport has a full range of services and shops including authentic African souvenirs and curios in the huge Big 5 Duty Free Shop. Durban King Shaka International Airport at La Mercy is named after a famous 19 th country Zulu king. The airport was built for the 2010 FIFA World Cup, replacing the 1951 Louis Botha Airport. It has one terminal handling around 5.3 million passengers a year. It is 35km (22 miles) north of Durban and private Fast Track transfers are recommended due to a lack of public transport options. It won "Best Airport in the World" in 2013, 2015 and 2016 for airports handling under 5 million passengers a year.